A One Day-Reunion with
Dad's Friesen Cousins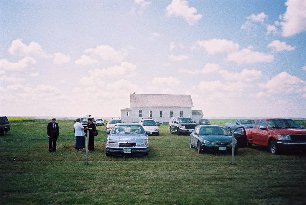 When we were notified of Annie Klassen's funeral, Dad and I went for a one-day reunion with Dad's cousins, down at the Turnhill area in the south-west area of Saskatchewan. Annie (Friesen), Dad's first cousin, had married Isbrant Rempel, but after he died, she married Daniel Klassen's.
She would have been 91 on the following Thursday. Quite a lady!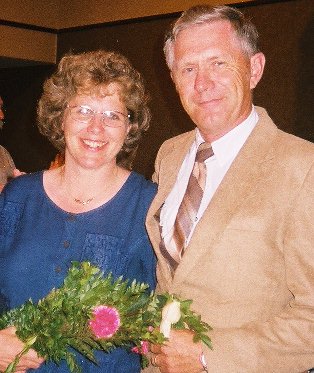 July 13, We arrive just a bit too late for the 11 a.m. graveside service of Annie (Friesen) Rempel-Klassen at the Turnhill Cemetery, Saskatchewan
However, we were invited to Lynn Rempel's farm nearby for lunch. Lynn had remained single for years, and stayed on the old farm with his mother. Just the weekend before, he had married a lovely young widow, Mrs. Fern Janz.
Knowing Lynn, the second-youngest of the Rempel family, had devoted himself to his mother in her later years, made me feel like this was so very suitable. I was glad for Lynn! And I liked Fern right away.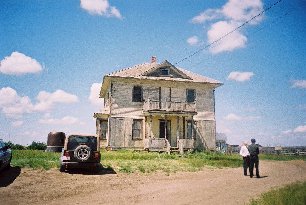 On that farm - the Klassen homestead, is a very old two-story house. I was fascinated and went out to take pictures of it - and found the Klassen step-children touring it on the inside. They were full of stories.
When Annie's first husband, Isbrand Rempel died, she married into the Klassen clan and although a petite, bird-like woman, she worked hard, and always had her heart and home open to visitors! Always!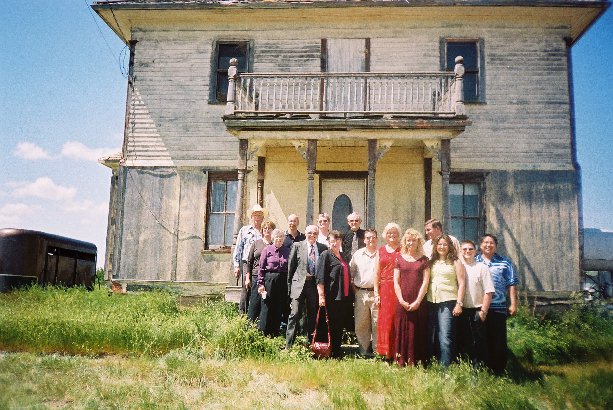 So when the Klassen siblings and descendants wanted their photos taken with their own cameras, I was happy to oblige.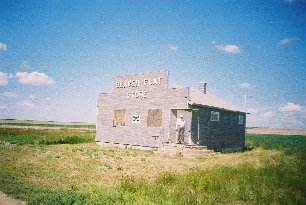 On our way to Swift Current for the church funeral service for Annie, Dad and I stopped to see the old Beaver Flat Store, near where his parents had their homestead. It was boarded up, but evoked memories for Dad.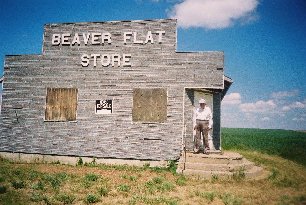 Later we learned that it is has been sold and will be moved away. (That's Dad on the store's steps).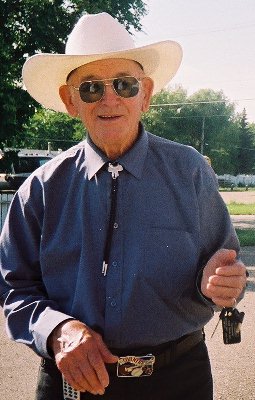 After the funeral lunch we lingered to visit with as many of Dad's cousins, and former friends as we could. This was John Zacharias, widower, who was happy to linger and visit too.
That was one of the very last trips Dad and I made to his old home area where he grew up. His parents' homestead was at Beaver Flat, actually, which doesn't exist any more except for the cemetery, but I heard Dad tell so many stories of his growing up years that I feel its heritage is in my bones too.
[Note: Menu links to Categories and other main pages are at TOP of each Page - & at BOTTOM (above business card)]