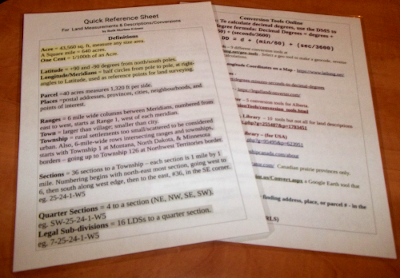 Legal Land Descriptions Map Coordinates & Homesteads Optional: A Laminated Quick Reference Sheet
(to be mailed)
by Ruth Marlene Friesen
This 19 page eBook contains basic information useful for:
- Researching your immigrant ancestors' homesteads,
- or, Finding land to pioneer for your family,
- or, GeoCaching and Treasure Hunt Games.
It is useful to know how to Convert Saskatchewan Legal Land Descriptions to Map Coordinates so that you can better use Google Earth to see certain homesteads and properties online.
A number of people who have a Saskatchewan land description of their family's Home Quarter or of a cemetery wonder how to find it's location on an online map like Google Map. One must usually enter into Google Map a set of map coordinates for example: 52.6631°N and 97.9959°W. (This ebook is a help for other provinces and places too).
The Saskatchewan land description was used in the provinces west of Ontario is in the form of: NW 34-42-4-W3. This is understood to contain these elements:
North West quarter,
Section 34,
Township 42,
Range 4,
West of the Third Meridian.
It has come to my attention that this is a problem for quite a lot of individuals. I'm fairly sure you are usually trying to research the places where your ancestors first settled or homesteaded when they came to Canada. Or, perhaps you are trying to find the exact location of a cemetery where certain elders in your family were buried.
But there are a number of other times when you discover a land description in one format, but when you go to Google maps (or some other online), you find that there the format is altogether different; how to convert to that format? You start to Google this in a panic!
You may be a new immigrant to Canada and looking for some suitable parcel of land where your family start a new farm of your own! Begin a dynasty of generations of your own descendants who will grow up to become and do great and marvelous things in this land! But some maps use one format of descriptions, and another map uses altogether different ways of legally describing the parcels of land. How can you sort this out?
OR - you have discovered the excitement of GeoCashing, or some other form of Treasure Hunt Games, but the rules say you have to find certain locations by their legal land descriptions. This is a new world for you; how do you even read those descriptions?
Well, I've researched the answers to your questions and put together this little 19 page e-book. You may download it shortly after your purchase, and keep it handy on your electronic device.
Now, if you should have a job or a research hobby that involves looking up these conversion methods from one format to another, you might just like to have the last two pages of the ebook as a laminated sheet which you can hang on the wall, and reach for in a jiffy when you need to look some of these answers up. So I do have an extra offer for you. I have laminated these last two pages so that you can have it in a stiff format that is hard to mislay on your desk, and is not going to get crumpled like just a printed sheet would. You can even punch a hole at the top so you can hang it on the wall and it will be hard to lose in your busy work environment. What do you think of that? ;)
This eBook Contains:
A bit of history. How the Canadian Provinces Marked out Parcels of Land and Government Land Surveys.
Legal Land Descriptions: Definition of Terms
How to Study and use Maps for Research
Internet Sites with Conversion Tools for Land Descriptions (lists of URL links).
Have Fun Using the KDE Marble Map - this can become a play thing, but it has 8 ways to see and read maps around the globe.
An Extra Offer: A Laminated Chart of Legal Land Descriptions & Conversion Tools. (Especially useful if you need to look these things up frequently)
BUY Legal Land Descriptions Map Coordinates & Homesteads the eBook, NOW for $12.00
$12.00 Cdn for downloadable ebook:
BUY the Laminated Chart of Legal Land Descriptions and Conversion Tools. (to be MAILED)

[Note: Menu links to Categories and other main pages are at TOP of each Page - & at BOTTOM (above business card)]