My Kroeker Line up to Gerhard Kroeker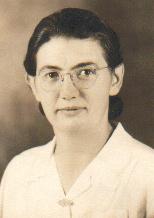 My Parents
Elizabeth Kroeker, b.11/29/1918, d.11/10/1997 at home in Hague.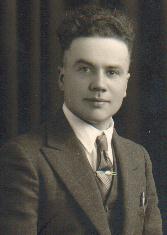 Heinrich H. Friesen, b.2/20/1916, d.2/24/2007 in Rosthern, Saskatchewan. He married Elizabeth Kroeker on 10/17/1947 (daughter of Gerhard Kroeker and Elisabeth Friesen).
My Grandparents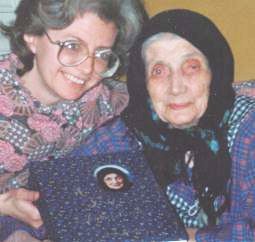 Elisabeth Friesen, b.5/6/1896 in a sod house, in North West Territories, before it became Saskatchewan. She died in Rosthern hospital on 8/16/1989. This is the beloved Gr'ma whom I sought to honour with the family history book, A Godly Inheritance published in 1988.
Gerhard D. Kroeker, b.3/8/1891 in Russia, d.11/9/1970. (His first name is given as Gertrud on the ship passenger list in 1891, which is incorrect. The 1901 Canada Census says he was born 2 Apr 1891). He married Elisabeth Friesen, 7/12/1914.
My Great-Grandparents
David Kroeker, b.1/18/1863 in Russia, d.1/11/1940 in Blumengart, Manitoba, Chihuahua, Mexico. (R158-3. His n.s. birth date was 2/2/1863). The 1901 Canada Census says he was born 2/12/1863, as does the Justina Wiens submission. D161 says he was born 1/31/1863. The Justina Wiens submission says he died 11/ /1940, which could be a reversal situation (11/? vs. 1/11). The Justina Wiens submission also states that David was a son of a David Kroeker (b.1839) and Elizabeth Bueckert. He married (1)Maria Hiebert on 12/31/1884 in Russia. He married (2)Anna Boldt, 10/17/1934 in Mexico, who was b.11/26/1876, and died in Mexico. (Anna was a widow with married children).
Maria Hiebert, b.10/20/1861 in Russia, d.1/18/1933 in Mexico. (R158. Elaine Wiebe says she was born 11/14/1861. Durango 161 shows she was born 11/1/1861. Her year of birth is not given in the records compiled by Anna Braun (b.9/18/1905) #508803 sent to Deborah (Erbacher) Stasiewski, but those records do state that she was born on 31 Oct. She was apparently born between 1860 and 1863. She immigrated to North America. Could this be the same person as Maria Hiebert (b. 20 Oct 1861) #189552?) My own note: they had 9 children; 2 of their daughters died at about age 2.
Great-Great-Grandparents
Gerhard Kroeker. (The Justina Wiens submission says that the parents of son David Kroeker were David Kroeker and Elizabeth Bueckert. He married Anna Nickel).
Anna Nikkel/Nickel.
This genealogy line really needs more research and something to break it wide-open.
[Note: Menu links to Categories and other main pages are at TOP of each Page - & at BOTTOM (above business card)]